CJC Alumna Named One of Orlando Magazine's Women of the Year
Ellen O'Connor, B.S. Advertising 1987, was named one of Orlando Magazine's "Women of the Year" for 2021. She was one of 23 individuals honored for their commitment to Orlando and for making a difference in the lives of people each day.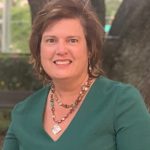 O'Connor is the Executive Director of Dave's House in Windermere, Florida. Dave's House is Central Florida's leading provider of affordable permanent supportive housing for individuals with serious mental illness and co-occurring disabilities. Their mission is to transform lives and give hope to people with serious mental illness through creating stable homes that provide lasting recovery.
She has worked as an advocate to end homelessness among the mentally ill of Central Florida and helped to establish nine permanent group homes and support programs.
According to O'Connor, "[I'm] motivated by seeing individuals improve their lives one step at a time, no matter their obstacles."
Posted: May 13, 2021
Category: Alumni News, College News, Diversity News
Tagged as: Ellen O'Connor