Profile: CJC's First Black Ph.D. Graduate and Diversity Trailblazer Retiring after 42 Years in Higher Education
By Lenore Devore, B.S. Journalism 1984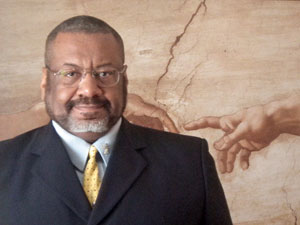 Clarence Thomas, the first Black person to graduate with a doctorate from the UF College of Journalism and Communications (CJC), is retiring from Virginia Commonwealth University (VCU) after more than 30 years at the University, and more than 40 in higher education, knowing his legacy will be his advocacy for diversity, inclusion and equity for those around him.
Diversity is a natural state of our world; it's natural for humans to have a diverse population, just like the many types of animals that exist, said Thomas, currently Associate Professor of Mass Communications in the Richard T. Robertson School of Media and Culture. Inclusion is bringing the diverse population into the fold. "Let's work as a group, let's work as a unit. When I came (to VCU), we didn't have a lot of people of color. Those who were there were never brought into the fold. I never knew what was going on."
Equity takes diversity and inclusion one step further to ensure everyone is paid the same, has the same perks and the like. "Treat us fairly. That's another step."
He was inspired by his mother, who attended the segregated St. Philip School of Nursing at VCU to become a registered nurse. "She was going to school and was trained like white nurses, but they would not pay her the same amount of money."
Thomas obtained his bachelor's in mass media from Hampton University, a private historically Back research university in Virginia, and his master's from Syracuse University before starting work as the first mass media professor at Winston-Salem State University.
He established and coordinated the minor and major in mass communications (later a department).  Then he started radio station WSNC. "It's one of the largest NPR stations in North Carolina and the program is one of the best at HBCUs in the U.S."
He knew if he was going to remain in college education, he had to get his doctorate.
When the University of Florida (UF) offered  him a McKnight Fellowship, he decided to attend UF and enroll in the College of Journalism and Communications, which he considered the best. "I was in the first Ph.D. class there. There were a handful of us. They were learning what to do with the doctoral program and we were learning what to do in a new program."
Some influential professors like Journalism Professor Kurt Kent and Dean Ralph Lowenstein made Thomas and his young family — wife Shirley, a professional librarian, and newborn Claire, who was born during Thomas' first year at UF — feel at home.
"We moved all the way down there, and we didn't know anybody," he said. "I was the only Black male in any of my classes. I did not see Black men. There were quite a few African-American women working on their master's. I didn't see a lot of diversity but I did not let that become a problem for me because I had a wife and baby to come home to. I brought my own diversity with me."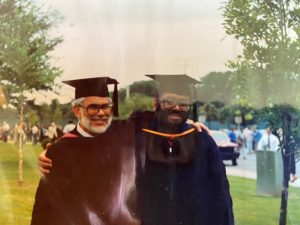 His mentor and chair of his dissertation committee, Broadcasting Professor F. Leslie Smith, was reportedly one of the toughest professors at UF, he said.  However, "Dr. Smith and I got along well. We just clicked. I had no problems."
During one lunch at Smith's house, Thomas brought Claire. "I was nervous presenting some of my work and Smith was playing a game with my daughter. Smith said, 'Did you see what she did?'" Smith had given her a difficult puzzle and she solved it. It was the first time Thomas realized his very young daughter was a very bright student.
Claire is now a physician in Richmond, and Thomas' younger daughter, Candace, just received her master's in clinical psychology.
Thomas specialized in media history. He was particularly interested in a speaker who came to one of his classes. The speaker was a professor from the UF English Department whose father ran a newspaper in Charlotte, N.C. His father, who was Jewish, was an advocate of civil rights for Black people in the South. Thomas realized that no one had done a dissertation on this man and his work. He decided to take on the job by focusing his dissertation on Harry Golden and his use of humor to advocate for civil rights in his newspaper, the Carolina Israelite.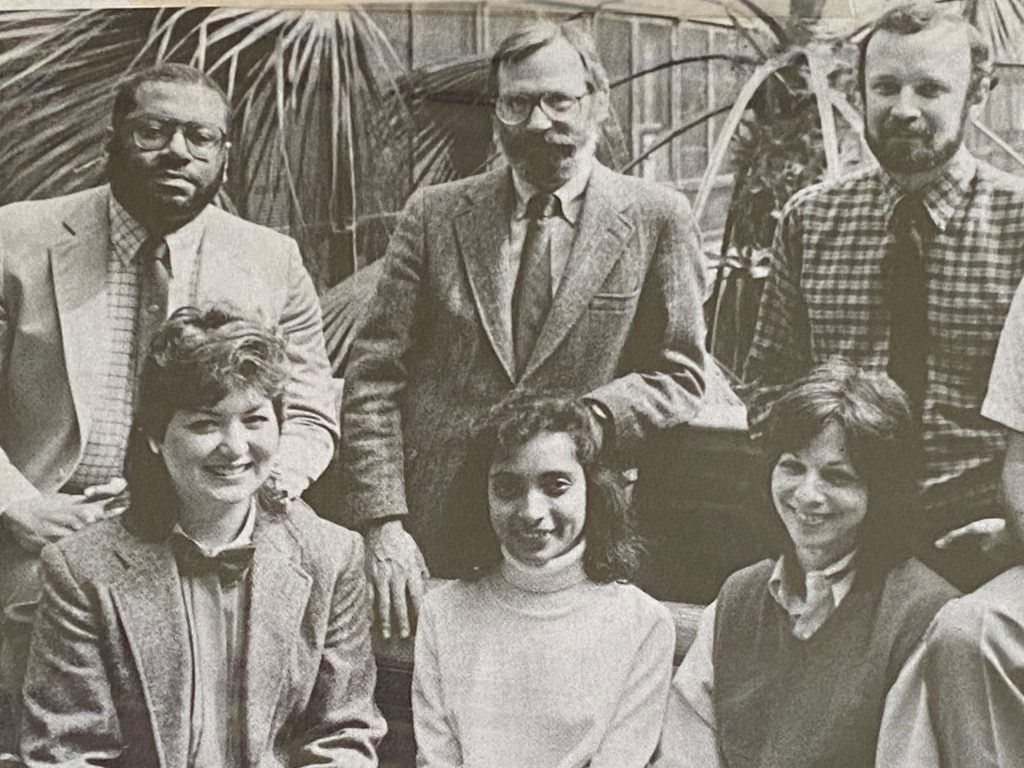 After graduating, Thomas declined a position at UF. He felt the pull of Virginia, where he had family that he wanted his daughter to know. He started teaching at VCU in 1990 and became tenured and graduate director for 10 years.
"VCU was quite different than Winston-Salem State University," Thomas said. "It was kind of a culture shock. It was not diverse at all. There were very few African-American students and even fewer faculty members. Several stereotypical bad things occurred. Someone hung a black face caricature on my door and I received prank phone calls. It was the tip of the iceberg. Some of the pranks were from faculty members. I wondered whether I should stay."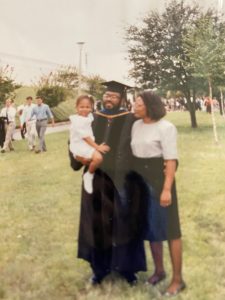 But Thomas wanted to stay in Virginia, and his wife was also working at VCU Libraries facing her own racial challenges. "Either I was going to stay here and be miserable or I was going to be tough. I've done a lot of first things as a Black person. I was used to toughing it out."
Throughout his career, he was asked to serve on various diversity and equity committees. Each year, the committees would write reports, but nothing ever happened. "They were talking the talk but not walking the walk."
Thomas insisted they walk the walk. Over time, he began suggesting things like starting a diversity committee and developing much-needed diversity courses. "When I started, people like me were essentially diversity directors (which most major companies and universities have today) while doing their primary jobs. That's why I have those awards — I was doing this before it was recognized formally."
Those awards include a VCU Presidential Award for Multicultural Enrichment for exceptional work in the facilitation of diversity at VCU, as well as the College of Humanities and Science Trailblazer in Inclusion, Diversity and Equity Award. These awards were for "his "enduring contributions to the teaching and service of racial and ethnic minorities in journalism and mass communication over the last three decades," according to the VCU website.
Thomas said he's seen improvements in diversity on college campuses and points to VCU's very diverse student population. Many colleges are hiring more diverse faculty and staff, too, but they need to continue to work on inclusion and equity issues.
He hopes more progress will be made as more universities, companies and institutions, even the Queen of England, he said, hire directors of diversity, inclusion and equity.
"If you compare it to when I started teaching in 1978 up to today, yes progress has been made." He would grade higher education's efforts as a C+ — passing, but with work to do. "There's still a ways to go to make an A," he said.
Thomas said he was surprised that the reaction to George Floyd's death went so far and lasted so long, with people of every race and color protesting in the U.S., Europe, Japan and beyond. "It started and just did not stop, and I think it's not going to stop. Floyd's death caused a bigger surge for the fight for rights than in the '50s and '60s with Rosa Parks and Dr. (Martin Luther) King."
When Thomas officially retires from a 42-year career in higher education on June 1, 2021, he wants to enjoy life. He plans to dance, sing, travel and "eat at all the fun places."
The 66-year-old said he has "at least three movies in me." He will work because it is fun and not because he has to work.
Posted: April 7, 2021
Category: Alumni News, Alumni Profiles, College News, Diversity News, Profiles
Tagged as: Clarence Thomas, Diversity