CJC to Change Telecommunication Department to Department of Media Production, Management, and Technology
The University of Florida College of Journalism and Communications today announced that it will be changing the name of its Department of Telecommunication to the Department of Media Production, Management, and Technology to better describe the department's academic and scholarly activities. The name change will be effective as of June 28, 2021.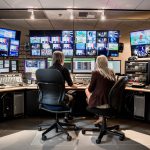 The department currently offers diverse areas of study and curriculum, including the creation, distribution, management, and use of video, audio, digital film and interactive/immersive content, audience analytics, impact on society and the effect of technology on user experiences, social change and law and policy.
"The meaning of Telecommunication has changed since the department name was adopted in the 1970s," said Telecommunication Department Chair David Ostroff. "We believe that Media Production, Management, and Technology better reflects what we teach and study, and will provide clarity to potential students, faculty members, alumni, employers, and the university community."
Undergraduate students, both on-campus and online, enrolling in UFCJC starting with the Summer B 2021 semester will now be pursuing a major in Media Production, Management, and Technology. Current students will continue to graduate with a Bachelor of Science Degree in Telecommunication. The change will apply to online students as well.
The department will continue to offer three tracks:
The Digital Film and Video Production Track will focus on the creation of fiction and non-fiction content. The department also will continue to develop new courses in sports program production.
The Management and Strategy Track explores audience research and analytics, economic theory, and approaches to the management of television and radio stations, cable systems, and emerging platforms and the law and regulation of media.

The Media and Society Track combines technologies for message creation for digital and social media with an appreciation of the historical and policy environment of media in a global society, particularly designed for students who wish to pursue and MBA or law degree. ​The track is also available to degree-seeking students through UF Online.
The Department is home to more than 500 undergraduate students and includes nine research faculty and eight professional faculty. Recent research includes the study of algorithms and the spread of misinformation, artificial intelligence impact on marginalized communities, cyberbullying on social media networks, motivations and usage of podcasts, and governance structures for data privacy. Faculty have also produced award-winning documentaries on topics ranging from a rare childhood disease to the legend of the Terracotta Warriors in China, and fictional drama and comedies.
UFCJC alumni now work in a variety of roles, including as crew members, directors, producers, writers, and "show-runners" for network and syndicated television programs, work in live sports, are immersed in audience research and analytics and consult on social media.
Posted: April 6, 2021
Category: College News
Tagged as: Department of Media Production, Management and Technology