CJC Alum and 2021 Hall of Famer Reflects on Lessons Learned During the Pandemic
Juan Andrade, B.S. Journalism 1986 and Hall of Fame 2021, president and CEO of Everest Re Group, an international insurance and reinsurance company, was featured in "15 CEOs Reflect on Lessons from Their Pandemic Year" published in The Wall Street Journal on April 2.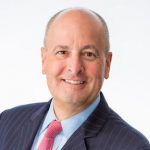 The article focuses on heads of companies across sectors including finance, hospitality and technology. They reflect on their current workspaces and what they've learned from the largely remote year, what challenges they faced and what changes they plan to leave in place during the next phase of work.
According to Andrade, "We're built for responding to a typhoon or to an earthquake or to a hurricane or winter event or whatever it is. And so, yes, you look inward and then you apply a lot of those lessons to how you run the company."
Posted: April 5, 2021
Category: Alumni News, College News
Tagged as: Juan Andrade, The Wall Street Journal