Tim Sorel Creates Social Media Videos for 2021 UF April Fools Day Prank
University of Florida College of Journalism and Communications Telecommunication Professor Tim Sorel had a lot of people fooled.  Sorel was the creator of UF President Kent Fuch's elaborate 2021 April Fools social media videos that showed the university president stepping down and the campus being run by UF's supercomputer. The initial reaction on social media had people fooled taking the information rather seriously.  As the day went on and each video being more silly than the last, subscribers to UF's social media pages realized it was an April Fools prank which President Fuchs has become known for.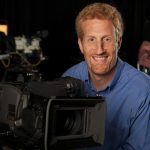 Sorel created the fictitious UFN cable news channel complete with animated branding and over the top graphics. His intention was to poke fun at the rash of news stories that are intentionally and verifiably false and the cable news outlets that manipulate people's perceptions of facts. Former WUFT news manager Bridget Grogan "anchored" the coverage along with UF Law School Professional Development Advisor Kevin Robertson. The videos featured Fuchs, Florida Football Coach Dan Mullen, University System Chancellor Marshall Criser, UFCJC students Daniel Kure, Khoury Kennedy, Jack Brackin and Kelsey Morris. Sorel reported that of all the cast, the toughest one to schedule was UF's mascot Albert.
Posted: April 2, 2021
Category: College News
Tagged as: Tim Sorel