UFCJC Wins 2020-2021 Hearst Journalism Awards Intercollegiate Broadcast Competition
The University of Florida College of Journalism and Communications (UFCJC) has won the 2020-2021 Hearst Journalism Awards Intercollegiate Broadcast competition. UF has received two first place finishes in three years and has maintained a top five status in this competition for the past five years.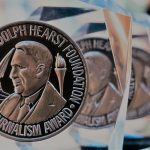 UFCJC had the highest accumulated student points from the radio and two television competitions. Contributing to the point total was a third and fourth place finish, respectively, by Telecommunication seniors Joseline Donoso and Chris O'Brien in the Television News competition. In the Radio competition, Telecommunication seniors Anthony Montalto placed eighth and Taylor Levesque placed twelfth and in the Television Features competition Chris O'Brien placed sixth and Journalism senior Victor Prieto placed eighth.
The Hearst program holds year-long competitions for journalism undergraduates in writing, photojournalism, broadcast news and multimedia. Journalism schools accumulating the most points earned by their students in each category are designated the winners of the Intercollegiate Competitions. Following UFCJC in Intercollegiate Broadcast Competition were Arizona State University; Michigan State University; University of Missouri; Syracuse University; University of Texas, Austin; Kent State University (tie); Pennsylvania State University (tie); Murray State University; and the University of North Carolina at Chapel Hill.
The top three intercollegiate winners earn $10,000, $4,000 and $2,000, respectively.
Posted: March 25, 2021
Category: College News, Student News
Tagged as: 2020-2021 Hearst Journalism Awards Intercollegiate Broadcast Competition