Two CJC Telecommunication Seniors are Top Five Finalists in the Hearst Television News Competition
Two University of Florida College of Journalism and Communications student journalists were recognized in the 2020-2021 Hearst Journalism Award Television 2 News Competition. Telecommunication seniors Joseline Donoso and Chris O'Brien placed third and fourth, respectively. As top five winners they automatically qualify to compete in the Television semi-final round.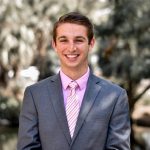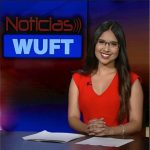 Entries in this category had a hard news focus and featured coverage of breaking or developing news related to campus, community, national or international issues, sports, business, investigative, science, weather or other current newsworthy matters.
The 61st annual program, offering up to $700,000 in awards, consists of five monthly writing competitions, two photojournalism competitions, one audio competition, two television competitions, and four multimedia competitions – with championship finals in all divisions. The competition includes 104 universities of the Association of Schools of Journalism and Mass Communication with accredited undergraduate journalism programs who are eligible to participate in the Hearst competitions.
Posted: March 23, 2021
Category: College News, Student News
Tagged as: 2020-2021 Hearst Journalism Awards Television News Competition, Chris O'Brien, Joseline Donoso