In Memoriam: Michael Hoefges
Michael Hoefges, B.S. Advertising 1982, J.D. 1985, M.A.M.C. 1996, Ph.D. 1998, passed away on March 9. He was 61.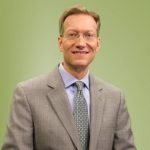 After receiving his law degree, Hoefges practiced as a civil litigation defense attorney licensed by the Florida Bar Association. He then taught media law at Trinity University, University of Tennessee and University of North Carolina at Chapel Hill. His research and publication interests included First Amendment commercial and corporate speech issues.
He is the founding co-coordinator of UNC's M.S./J.D. dual degree program, and he was on the advisory board for the UNC Center for Media Law and Policy. Hoefges served multiple terms on the National Advertising Review Board.
While at CJC he received a Brechner Center for Freedom of Information Fellowship and worked with the former Brechner Director and Professor Emeritus Bill Chamberlin.
Posted: March 15, 2021
Category: Alumni News, College News
Tagged as: Michael Hoefges