CJC Online Journalism Bachelor's Degree in Sports & Media Ranked Third in the U.S. Based on 10-Year ROI
The University of Florida College of Journalism and Communications Online Journalism Bachelor's Degree program in Sports & Media was ranked as the number three degree program in the U.S. based on a ten-year return on investment (ROI). The 2021 ranking was determined by OnlineU.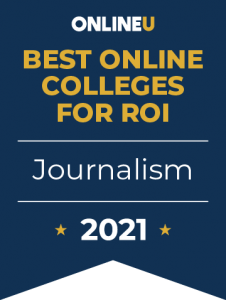 The 2021 OnlineU Best Online College rankings, based on median post-graduate salary data of over 450,000 alumni, were sourced from the U.S. Department of Education's College Scorecard. The Sports & Media curriculum offers students cross-disciplinary instruction in both journalism and core sports concepts, as well as writing for communicators, data literacy, and reporting skills. During the program, students can participate in both practical and immersive experiences.
Posted: March 5, 2021
Category: College News, Student News
Tagged as: OnlineU Best Online College Rankings