CJC Alumna Receives WHNPA 2021 Multimedia Journalist of the Year
Drea Cornejo, B.S. Journalism 2017, has been named the 2021Multimedia Journalist of the Year by The White House News Photographers Association (WHNPA).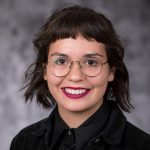 Cornejo, a video editor at The Washington Post, received the top honor in the 2021 Eyes of History: Digital Storytelling Competition. She also received first place in the Continuing News and Issue Reporting category for "Laid Off From Her Job at Disney After 14 Years, a Server Struggles to Navigate the Pandemic" and third place for "For Two Families, Breonna Taylor's Death is a Reminder of the Women They Lost." In the Feature Story category, she received first place for "After Years of Living in Motels, a Family Finally Got Their Own RV. Then COVID-19 Came."
The WHNPA is dedicated to promoting, protecting and advancing the interests and intellectual property rights of its members which still consists of still and video photographers assigned to cover the White House and other news events in Washington and beyond. The Eyes of History contests are held annually to select the best in visual journalism across still, video, and multimedia disciplines.
While at CJC, Cornejo was recognized for Best Story of the Year at the 2017 Hearst Journalism Awards National Championships.
Posted: March 3, 2021
Category: Alumni News, College News
Tagged as: Drea Cornejo, The White House News Photographers Association