CJC Student's Brand Analysis of Urban Outfitters Receives Surprise Response
Ella Kulak, a University of Florida College of Journalism and Communications Advertising sophomore, received a surprise response to her LinkedIn post for an analysis of her favorite brand's parent company, Urban Outfitters.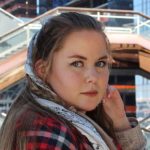 Kulak, a student in CJC Adjunct Lecturer Robert Hughes' ADV 3001 Advertising Strategy course, completed an assignment asking students to define their favorite brand and brand personality. Kulak posted her analysis of Urban Outfitters on the Canvas classroom feed and her Linkedin page.
Not long after she posted on her Linkedin page, she received a reply from Hector Pacheco, director of Global Predevelopment at Urban Outfitters. "I loved reading this," said Pacheco. "It's wonderful to see Urban Outfitters through someone else's eyes. Thanks so much for sharing!"
According to Hughes, "I think this is a great example of how our classwork can help lead to our student's networking with decision makers in the professional world."
Posted: February 4, 2021
Category: College News, Student News
Tagged as: Ella Kulak, Robert Hughes