Rachel Grant Selected to Participate in Prestigious Research Methods Institute
Rachel Grant, University of Florida College of Journalism and Communications Journalism assistant professor, has been selected to participate in the virtual 2021 Intersectional Qualitative Research Methods Institute (IQRMI) from June 6-11.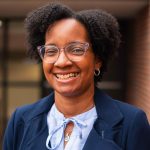 This intensive, week-long institute, originating from the University of Maryland College Park, will provide instruction in methodological skills, writing, and navigation of institutional norms.
The goal of the institute is to enhance qualitative research and writing skills, develop critical intersectional perspectives for designing and interpreting research and develop and hone navigational skills to successfully negotiate academic career paths.
Since 2015, the Consortium on Race, Gender and Ethnicity (CRGE) has organized the week-long IQRMI, one of the few training institutes in the country focusing on qualitative research methods and, currently, none incorporate discussions regarding the intersections of race, gender, lass, ethnicity, and other dimensions of inequality.
Posted: February 2, 2021
Category: College News
Tagged as: Rachel Grant