CJC Alumna Honored in the 2021 Hearst Multimedia Narrative Storytelling Competition
Mackenzie Behm, B.S. Journalism 2020, has been recognized as a Top 20 finalist in the 2021 Hearst Journalism Awards Multimedia Narrative Storytelling competition. Behm placed seventh.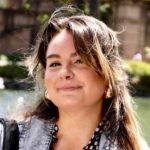 Entries in this competition included least three of the following components: writing, photos, audio slideshows, video, animation, graphics or any other visual tools. Entrants also could have used social media, including blogging.
The 61st annual program, offering up to $700,000 in awards, consists of five monthly writing competitions, two photojournalism competitions, one audio competition, two television competitions, and four multimedia competitions – with championship finals in all divisions. The competition includes 104 universities of the Association of Schools of Journalism and Mass Communication with accredited undergraduate journalism programs who are eligible to participate in the Hearst competitions.
Posted: January 15, 2021
Category: Alumni News, College News
Tagged as: 2021 Hearst Journalism Awards, Mackenzie Behm