CJC Alum Authors His Debut Fiction Novel on Early Florida
James Chapin, B.S. Journalism 2016, is the author of a new novel Ride South Until the Sawgrass published by Lanternfish Press in October 2020. The literary work is set during the tumultuous years of the Florida Territory's Second Seminole War and early statehood. It focuses on two intertwined families and their very different approaches to life on a harsh but beautiful frontier.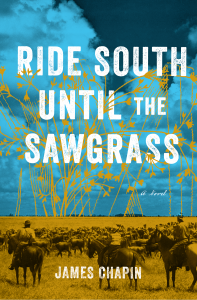 According to Chapin, the book has received praise from Pulitzer Prize nominee (and former Tampa Bay Times reporter) Ben Montgomery, who said that it "lands among the best fiction writing inspired by rugged old Florida."
Chapin has written for several media outlets include Slate, Catapult and the Tampa Bay Times. He is currently a master's student in Forestry at the University of Georgia.
Posted: January 5, 2021
Category: Alumni News, College News
Tagged as: James Chapin