Diane McFarlin Featured in New Alligator Podcast on Her Tenure as CJC Dean
Diane McFarlin, University of Florida College of Journalism and Communications dean, is featured in The Independent Florida Alligator podcast episode "News: What Could Be Better Than This" on Dec. 6.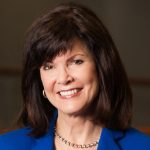 McFarlin, B.S. Journalism 1976, spoke with senior Journalism Major Thomas Holton, The Alligator Podcast host and producer, about her eight-year tenure as CJC dean, the future of journalism and her plans for retirement.
McFarlin told Holton that she has loved every minute in her role, but it is time to stop and focus on personal issues. Dealing with pandemic challenges during 2020 has made stepping away a bit easier.
The periodic podcast, from the student newspaper serving the UF community, features news, sports and stories of interest. It is available for free on Apple Podcasts.
Posted: December 7, 2020
Category: Alumni News, College News
Tagged as: Diane McFarlin, Independent Florida Alligator