CJC Alum Cited by Business Insider as One of the 40 Rising Stars of Madison Avenue
Courtney Jones, B.S. Public Relations 2014, has been cited as one of the "40 rising stars of Madison Avenue who are revolutionizing advertising in 2020" by Business Insider.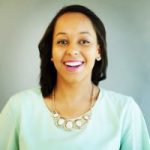 Jones is currently the Business Development & Communications Lead at 22Squared, a marketing and advertising agency in Atlanta, Georgia. She was recognized for helping the agency win three new clients during the pandemic, including one with a major movie studio, "where she owned the relationship, assembled the team, and negotiated the scope of work."
She also led the project, "Invisible Hate," where "the agency launched a movement to remove Confederate monuments in conjunction with its client, the Atlanta NAACP." In 2021, she will lead an internal mentorship program for the agency.
Posted: December 4, 2020
Category: Alumni News, College News
Tagged as: Business Insider, Courtney Jones