Myiah Hutchens To Present at Virtual IPR Research Symposium
Myiah Hutchens, University of Florida College of Journalism and Communications Public Relations assistant professor, will be speaking at the virtual Institute for Public Relations (IPR) Research Symposium on  "Expletives and Echo Chambers: Unpacking and Improving Political Communication" on Dec. 2 at 3:55 p.m. The online event is free and open to the public.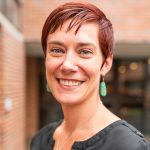 The IPR Research Symposium, held annually across the globe since 2013, is an end-of-the-year event featuring the latest research and insights on the future of work, business ecosystems, how COVID-19 impacts communication, diversity, equity, and inclusion and more.
Hutchens is a political communication scholar whose research generally centers on how communication functions in the democratic process. She also focuses on what leads people to seek our diverse perspectives – particularly views they disagree with – and how individuals then process that disagreement.
Posted: December 2, 2020
Category: College News, Trust News
Tagged as: Institute for Public Relations, Myiah Hutchens