Finance Executive/Design Maven/Social Media Star: CJC Alumna Finds "Purpose in Pain"
By Emma Witmer, B.S. Journalism 2020
"If you love what you do, you'll never work a day in your life."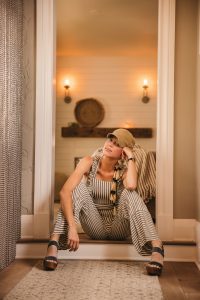 It's a popular cliche and one that lies close to the heart of former UF track star Galey Gravenstein, B.S. Public Relations 2007. For someone who "doesn't work a day," Gravenstein seems to work quite a bit. She's a perspicacious passion chaser with the dedication to pull it off. From inadvertently becoming a D1 athlete, to starting her first job with Goldman Sachs without finance experience, to gaining more than 1 million Instagram followers on a lark, Gravenstein's story is one of meeting opportunity with preparedness and "finding purpose in pain."
During the week, Gravenstein shines in the world of finance as a Vice President and Regional Director for Goldman Sachs, one of the world's largest investment and banking firms. From 5 p.m. on Friday to Sunday at midnight, she runs her own home design company, transforming homes with sleek design and tantalizing her 3.2 million Instagram and TikTok followers with skillfully edited transformation videos from each project.
And yes, she does the video production herself.
A Gainesville native and self-proclaimed "proud ACR (Alachua County Resident)," Gravenstein has never known a time when she wasn't a die-hard Gator.
"My parents unintentionally brainwashed me into bleeding orange and blue," she laughs looking back.
Growing up, Gravenstein family bonding time meant racing through homework and scarfing down dinner just in time to hop in the family car and head out to that night's Gator basketball game or volleyball match. When the Gravenstein kids didn't have games of their own down at Oak Hall High School, they were cheering on the Gators. Little did Galey know that in a few short years, her family would be making that same trek out to that same campus to watch their daughter compete as a D-1 athlete in a sport she had never competed in before.
During her years at Oak Hall, Gravenstein was a two-sport athlete, showing her athletic prowess on the volleyball and soccer teams. She was also an avid runner, though she never competed as part of a cross-country team.
By the time Gravenstein enrolled in UF, she had the speed and endurance of a trained athlete, and it didn't go unnoticed. During her first Homecoming in fall 2003, as crowds prepared for the traditional parade, Gravenstein was picking up momentum in the Gator Gallop, an annual 5K run set up as part of the University's Homecoming festivities. She quickly gained the lead, a neck-and-neck run-off against a man she had never seen before. To the 18-year-old Gravenstein's dismay, the man began to call out to her at a full sprint.
"Do you go to school here?" he yelled over and over.
To avoid the stranger, Gravenstein ran faster and faster until she met her parents on the other side of the finish line. The stranger approached her again with the same question. "Okay," he began out of breath. "Can you run at SECs for us next week?"
The stranger, as it turned out, was the UF Men and Women's Track Coach Jeff Pigg. Gravenstein competed in the first team race of her life just two weeks later, inadvertently becoming one of the Gator athletes she had always admired.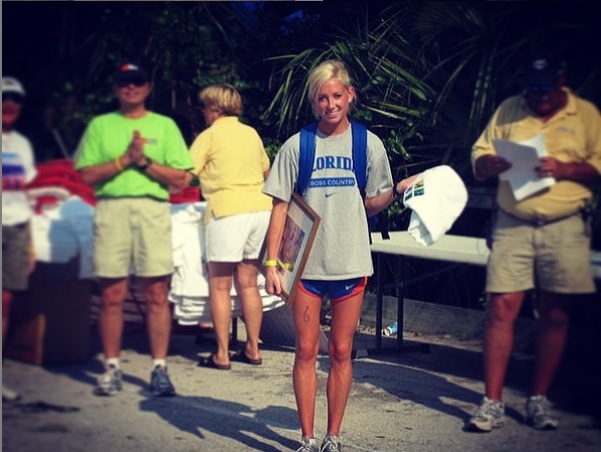 With each of her siblings branching into the medical field, Gravenstein described herself as the "blonde sheep" of the family growing up believing a law degree would be her opportunity to both set herself apart and rise to her own potential. A UF advisor suggested that Gravenstein enroll in the College of Journalism and Communications to help her stand out among law school applicants, most of whom majored in political science, and fulfill all her law school writing credits. It was then that she first considered a major in public relations.
It didn't take long for Gravenstein to fall in love with her new major. It was an unexpected opportunity to flex her creative muscles and the ideal chance to show her dedication and drive. Gravenstein remembers turning in one of her first assignments, a 10-page paper, two weeks early in Public Relations Professor Mary Ann Ferguson's class. While it may not have curried much favor with her classmates, Ferguson passed her paper around the room as an example and took Gravenstein under her wing. Over the years, Ferguson, who has taught at the university for more than 27 years, became a lifeline for Gravenstein, and the two keep in touch to this day.
After graduation, Gravenstein headed straight to Barnes and Noble, excitedly handing over $150 for an LSAT prep book. She got in the car, headed home, pulled up a chair by her parent's pool, and flipped open the first page. She then promptly shut the book again.
"I got halfway through the first page and my gut instinct was screaming this is the wrong decision."
In an instant, Gravenstein's future opened into a world of uncertainty and opportunity. Inspired by her then-boyfriend's mother, Gravenstein took an entry-level job selling financial products in Tampa. Despite a lack of professional experience, Gravenstein went in on her first day guns-blazing.
"I have no experience, but I'm the hardest worker you'll ever meet and I don't get tired," Gravenstein told her new boss. "I graduated summa cum laude and was a Division 1 athlete. I hustle and I'm coachable. Train me. If you ask me to jump, I won't even ask how high. I'll just start jumping as high as I can."
The early years of Gravenstein's career served as a crash course in finance. She read finance textbooks in her free time and signed up for all the continued education courses that she could, teaching herself the ins and outs of the financial sector. And she soon discovered that her public relations education has served her in countless ways throughout her career.
"At CJC, you learn how to sell things, right?" Gravenstein explains. "You have to pitch a story idea to your teacher or sell a concept by making it engaging. And how do you do that? With creativity. Those skills translated into my finance and design careers. They taught me how to weave words together in an interesting way to story-sell. Today, I'm still doing that but it's with financial products and decorating videos."
Just two years later, Gravenstein had the opportunity to sell something new – herself.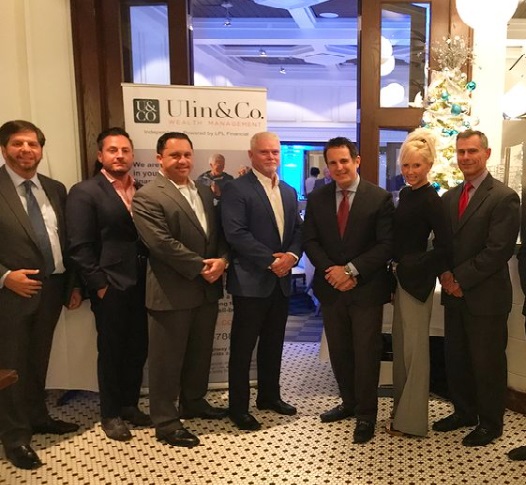 She was at her desk surrounded by some 60 other men and five women huddled together in small cubicles cold-calling financial advisers around the country. Then a headhunter from Goldman Sachs reached out. Both flattered and terrified, Gravenstein was told that with her level of experience, she had a .0001 percent chance of getting the job. She bet on herself despite the odds and after ten rounds of interviews in NYC, was hired.
"At the end of the day, if you don't bet on yourself, why should anybody else?" Gravenstein says. "You know what you're capable of, you know how hard you're willing to work, what hours you're willing to put in. You know how you hustle. You know you're smart and you don't give up. So if you know all of these things about yourself, then allow it to shine through via your confidence in an interview. But you have to take a real self-assessment about what you are willing to do or how hard you're willing to work. There is a fine line between confidence and arrogance. Be cognizant of it and don't trip over it."
Gravenstein quickly built a reputation of transparency with her clients, a value central to her personal brand. Gravenstein says honesty and authenticity are crucial to making the professional environment more personal, and ultimately, your client feels valued and understood.
When it came to building my brand with Galey Alix Design, I translated that same concept," Gravenstein says. "It was like taking that same philosophy but setting it on fire… and then pouring gasoline on it." Galey Alix Design, which is primarily run through Instagram and TikTok, came out of a particularly difficult time in Gravenstein's life, and much like other pivotal moments in her life, it began quite unexpectedly.
After a yearlong engagement, Gravenstein left her job and family in Florida to move to Connecticut with her fiancé. The dream turned sour when, weeks before the wedding, it became clear that he was not the man she thought he was. Feeling hopeless and lost, Gravenstein returned to Florida battling severe depression and anxiety.
"I felt like my world had been rocked," Gravenstein says, reflecting on that time. "I picked myself up, not just by going to therapy but also because I was surrounded by a village of people who kept telling me, 'this will all make sense someday.' That's when I realized I had to give my pain a purpose."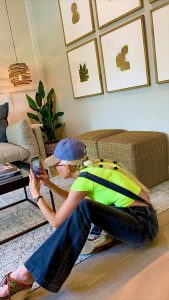 When she was decorating the dream home she bought with her fiancé in Connecticut, she started to uncover a passion for creating spaces and for filming his surprised reaction of each room she finished. She was posting videos of her decorating their home and surprising him for her less than 1,000 Instagram followers at the time.
When she moved back to Florida, a friend asked Gravenstein to decorate her house and surprise her like she had surprised her ex-fiancé. She did it as a way to recover from feeling devastated, unwanted and unworthy. "This gave me a sense of being worthy… of having value again," Gravenstein said. "And it gave me something to do on the weekends so I wasn't home feelings sorry for myself." Her friend's family moved out their home for four days and Gravenstein moved in, renovated her home on almost no sleep for four days, and surprised them on Sunday. "The video I made of me redoing her home is the first one that went viral and it's how this business got started."
Requests started pouring in and Galey Alix Design was born.
In the months that followed, Gravenstein took on more and more clients, moving into their homes and creating stunning transformations in just one weekend. She created an official account on Instagram, @Galeyalix, and continued to upload her videos. Today, these time-lapsed transformations have garnered more than 200 million views!
And this year, Gravenstein won Wayfair's Tastemaker Award for best commercial design and was featured in the Property Brother's Reveal magazine.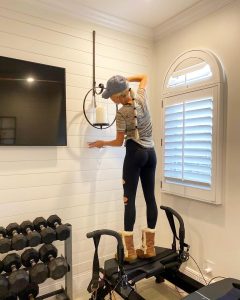 "I'm like a video gamer," Gravenstein joked, explaining how she edits her decorating videos through the night into the morning. "I realized I found my passion when I decorated that home in Connecticut. Hours would just fall off the clock, completely unnoticed. Every time I was creating a new room in that house it felt like my heart was literally doing cartwheels."
It was far from the life she had envisioned for herself, but the new venture gave Gravenstein the opportunity to express her creativity like never before. It also gave her the opportunity to become a positive voice of authenticity on a platform filled with unhealthy comparisons.
Gravenstein doesn't do any paid sponsorships on her account, but rather opens up to her largely female follower base about her personal struggles. From painful breakups, to dealing with eating disorders and overcoming the fear of failure, Gravenstein has set a standard of honesty, encouragement and overcoming with her followers.
"I don't like the term influencer, especially in the context of social media. I think that being an influencer can have a lot of negative connotations. What I want to be when I grow up is an inspirer. I want to inspire people to pursue their passion. I want to inspire people to give their pain a purpose. I want to inspire people to be authentic and real and vulnerable and to trust that that is only going to make you more comfortable and allow you to love yourself more."
Posted: November 22, 2020
Category: Alumni Profiles, Profiles