CJC Doctoral Student Writes Opinion Column on Youth Participation in the Recent Election
University of Florida College of Journalism and Communications doctoral student Michael Munroe is the author of the opinion column, "American Youth Are on the Right Side of History" published in the Tampa Bay Times on Nov. 19.
Munroe focuses on the recent presidential campaign and the high participation rate of young voters in Florida.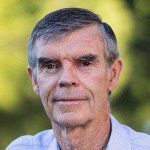 According to Munroe, "Florida drew more than 11 million voters, who represented 13.3 percent of the national total and sent the state's electoral votes to President Donald Trump. But Florida's young voters sent us their own, different message. Young voters, between 18 and 29, would have turned Florida blue if counted alone, with 64 percent casting their ballot for President-elect Joe Biden, according to the Circle Research Center at Tufts University. In the wake of the election, more important than whom they voted for becomes what they're standing for."
He references a survey by the Tufts group that indicated the top three issues for this age group were climate change, racism and health care access and affordability.
"Some elders may feel that each generation has its unique challenges they must overcome. But intergenerational cooperation will get us there more quickly. Wisdom and experience can be passed on to focus and guide the determined energy of the young," he said. "No matter whom you voted for, instead of continuing to avoid these issues, it is time for citizens of all ages to join this young generation in working toward a better future for all."
Posted: November 20, 2020
Category: College News, Student News
Tagged as: 2020 Election, Michael Munroe, Tampa Bay Times