Myiah Hutchens Comments on Political Issues After the Recent Presidential Election
Myiah Hutchens, University of Florida College of Journalism and Communications Public Relations assistant professor, was quoted in "Dis-United States: Biden's Team Faces Reality of Rule During Trumpism" published in the South China Morning Post on Nov. 16.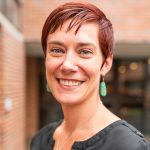 The article focuses on the recent Presidential election and the impact of possible legal battles and delays to the transition of power due to the results.
According to Hutchens, there is a phenomenon that politics is becoming more and more entrenched with social identity.
"This idea of thinking of politics as 'us versus them' is something that we have seen increase," she said.
Posted: November 17, 2020
Category: College News
Tagged as: Myiah Hutchens