Rachel Grant Will Serve as Moderator for Virtual Ethics Café on Reparations
Rachel Grant, University of Florida College of Journalism and Communications Journalism assistant professor, will be the moderator for a UF Virtual Ethics Café presentation on Reparations on Nov. 17 at 5 p.m.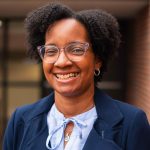 Grant will lead a discussion on the ethical issues raised by the question of reparations for Black descendants of enslaved people in the U.S.  It will focus on how society is coping with and understanding the racial injustices of the past.
Ethics Café Is part of the Intersections on Ethics in the Public Sphere series organized by the Mellon Intersections Group on Ethics in the Public Sphere, with additional support from the UF Center for Humanities in the Public Sphere, the UF George A. Smathers Libraries and the Andrew W. Mellon Foundation.
Posted: November 10, 2020
Category: College News
Tagged as: Rachel Grant