Five CJC International Graduate Students Honored for Their Achievements
Five University of Florida College of Journalism and Communications graduate students are the recipients of 2020 UF International Student Achievement Awards. Sunny Yufan Qin, Angela Mu, Camilo Giraldo Gallo, Julia Hyehyun Kim and Ekaterina Romanova will be honored at a virtual ceremony on Nov. 17 at 5:30 p.m.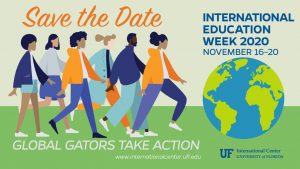 The UF International Student Achievement Awards recognize outstanding contributions of international students to promote and foster continued involvement and outstanding achievement in the college, university, and community. The award ceremony is one of the events during International Education Week from Nov. 17-20.
Posted: November 10, 2020
Category: College News, Student News
Tagged as: 2020 International Student Achievement Awards, Angela Mu, Camilo Giraldo Gallo, Ekaterina Romanova, Julia Hyehyun Kim, Sunny Yufan Qin