Brittany Jones' Persistence Lands Dream Job at Black News Channel
By Lenore Devore, B.S. Journalism 1984
Turn on the Black News Channel in almost any part of the United States and you'll likely catch a glimpse of Brittany Jones, B.S., Telecommunications 2010, whose new job as a reporter, anchor and talk show hostess gives her a platform to inform, engage and assist Black people.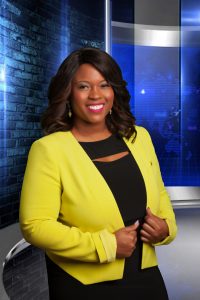 The 32-year-old Jacksonville native returned to Tallahassee in June 2020 to work at the network's headquarters. It's a city she loves, having worked as a political reporter for WFSU TV, then as a reporter and anchor at WTXL ABC 27 — jobs she got after a year of persistence.
She might have given up if she didn't follow advice she got at CJC, where she was told: "Don't stop at no." Jones said, "If you have a passion for this, keep going. I got 300 no's. I could have given up after a year" of searching for a job.
"Me as a Black journalist, I didn't have those connections," she said, referring to classmates with connections who graduated with jobs. "I sent out 300 resumes; it was like an assembly line at my house. It was a frustrating year."
During her senior year in high school, she realized she loved watching reporters on the sidelines at sporting events and decided that was the career path she wanted to pursue. She attended the University of West Florida in Pensacola, but personal reasons prompted her to move closer to home. She then started looking at UF and found its journalism college was the best around. She transferred in. "I learned so much. They had a newscast at 5 [p.m.] every day. I knew it would be challenging, but I would learn what I needed to learn to go into the real world."
When people asked her how she could write, shoot photos and videos, and more, she tells them CJC gave her the tools and taught her well. "They taught us radio, so many different skill sets."
In 2015, Jones was hired as a reporter/anchor at News 13 Orlando but, in 2018, she decided to not renew her contract.  She had offers but didn't want to move too far away from North Florida. She kept her eye on the Black News Channel in Tallahassee to see if it might be an avenue for her.
After a year as reporter with the Graham Media Group, in June 2020 she got the break she was hoping for: an anchor/reporter position at the Black News Channel.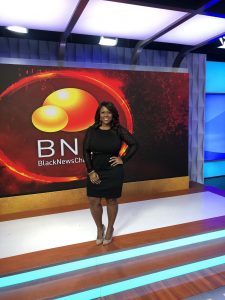 "I walked inside the building amazed," she said. "I felt called to be able to come there. It has been an interesting transition during the pandemic. Even finding an apartment was different."
Now, during the pandemic and a time of civil unrest, Jones is telling stories that are important to her and for the Black community.
In her new job, she reports on civil unrest, police brutality, medical issues — like why more Black people are needed for vaccine trials and how colon cancer affects Black people — and hosts the BNC Health Watch on Tuesdays to recap the health news stories of the week.
"We are giving the Black community a platform to share their stories with a particular niche. It's a different connection," she said. "There is an understanding that these stories have to be told. They have not been told."
Interviewing people who are responding to news of racist acts and telling their own stories takes an emotional toll, Jones said. "They're going through hurt and pain from what they are seeing on TV. It's emotionally impacting, but I need to tell their legitimate concerns accurately, without any opinion, without my emotions. It's traumatic for us as journalists, but we have to put it in the back of our minds."
She's happy to see more people talking about the issues. Now, there needs to be some type of healing. "Getting more people listening, paying attention, so the next time they say certain things, they understand where Black and brown people are coming from and they have a better understanding why protests are happening."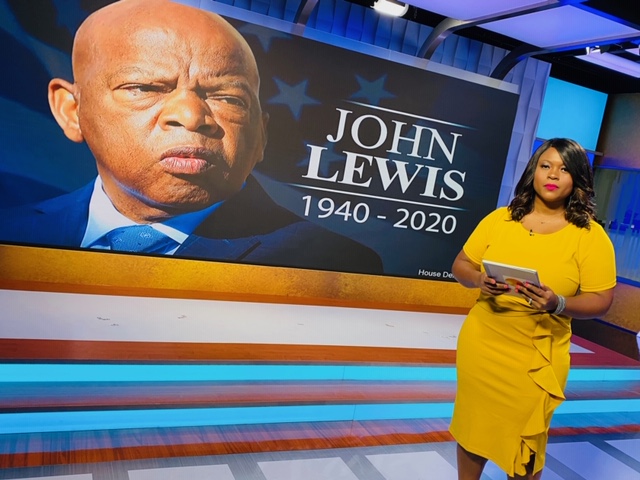 Although she loved her job in Orlando, covering everything from space launches and NASCAR to hurricanes and the Pulse shootings, she enjoys not having to fight so hard to tell a Black story. And, "I get to do talk shows, actually sit there and have a conversation, banter and laughter," Jones said. "It takes me out of regular news. You get to be you, have fun, show your personality."
That's a far cry from the first week covering the Pulse shooting, when 49 people were killed and 53 injured at the gay club in Orlando in June 2016. "It was days of grueling coverage, of sadness." Her day had just ended when she heard "multiple people" shot, thinking a handful. "Who would have imagined 49 killed? Who would have imagined the magnitude?"
At the Orlando Police Department the next morning, she saw people still covered in blood. She ran into many UF alumni who were there to cover the story and, like her, were looking for family members of victims and trying to figure out what triggered Omar Mateen to shoot so many.
Emotional situations aside, her time at UF prepared her.
"There were particular classes that called for me to do some long-format pieces, to go out in the field, that helped the most," she said. "Whether shooting video in the rain to prepare me to go into storms or getting done by deadline, I learned."
Her first love, sports, provided her an avenue to succeed, be a part and enjoy herself. "Being there during that time, the Tim Tebow days, the national championships, everyone was excited. It gave me an opportunity to cover some of the most exciting games ever. Those were the times I was really doing it, being a real reporter, shooting video, editing, anchoring sportscasts."
Now, she's ready to share her experiences with other young journalists. To minority journalists, Jones would say: "Remember that you always have a platform and duty to make sure you go out there and tell those stories. Uncover things people don't want to talk about. Focus on telling what's happening."
To all she would advise: "Stay hungry. If you think something may be a story or someone is trying to get your attention, pay attention. Uncover things that will help your community. Find solutions. Don't give up. Keep pushing. And don't let anyone tell you our jobs are not important."
Posted: September 27, 2020
Category: Alumni News, Profiles
Tagged as: Black News Channel, Brittany Jones