CJC Announces New Annual Award Honoring Adjunct Teaching Excellence
The University of Florida College of Journalism and Communication has announced a new annual teaching honor – The Helen Aller Oster Adjunct Teacher of the Year Award. The award recognizes adjunct lecturers who are an integral part of the residential and online curriculums in the College.
The award is named in honor of Helen Aller Oster, B.S. Journalism 1975 and M.A.M.C. 1985, a tireless advocate for students and a fierce proponent of teaching excellence. During her tenure at CJC, she was a CJC teacher and administrator, including the role of assistant dean, for 16 years.
In 2001, following Oster's untimely death, the Helen Aller Oster Teaching Excellence Fund was established to provide an annual award to a teacher in the College "who embodies the spirit of excellence in teaching and concern for students, both in and out of the classroom."
Dean Emerita Terry Hynes, who was dean at the time of Oster's death, recently contributed a generous gift allowing the fund to be endowed and the award given in perpetuity.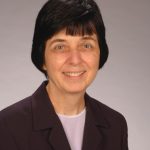 "Helen cared deeply about teaching because she cared about students and student learning," said Hynes. "A teaching award for adjuncts that focuses on recognizing and rewarding outstanding ability to help students learn captures everything I remember from conversations with Helen about this topic."
The award, which comes with a $1,000 honorarium, will be presented for the first time at the at the annual CJC College Awards Ceremony in the spring of 2021.
Posted: September 2, 2020
Category: Alumni News, College News
Tagged as: Helen Aller Oster Adjunct Teacher of the Year Award, Terry Hynes