CJC Alum is the Author of a New Book Chronicling a Pivotal Battle in the Vietnam War
J. Keith Saliba, B.S. Journalism 2001, M.A.M.C 2005 and Ph.D. 2008, is the author of Death in the Highlands: The Siege of Special Forces Camp Plei Me.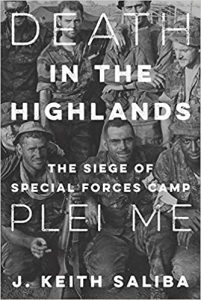 The book begins in the fall 1965 when the South Vietnamese republic was on the verge of collapse, and Hanoi resolved to crush it once and for all. The communists set their sights on South Vietnam's strategically vital West-Central Highlands with the goal of annihilating the Army of the Republic of Vietnam's defenses in Kontum and Pleiku provinces.
Their first target was the American Special Forces camp at Plei Me, remote and isolated along the Cambodian border. Before the skirmish was over, the siege of Plei Me would push its defenders to the brink and usher in the first major clashes between the U.S. and North Vietnamese armies.
For the book, Saliba draws on archival research and interviews with combat veterans to reconstruct this pivotal battle in vivid, gut-wrenching detail and illustrates where the siege fit in the war's strategic picture.
Saliba is an associate professor of Journalism at Jacksonville (Florida) University (JU), where he teaches narrative nonfiction and mass communication theory. He has written about military affairs and the Vietnam War for 20 years, first as a reporter and columnist for two daily newspapers, and later as an academic at UF and JU.
Posted: September 2, 2020
Category: Alumni News, College News
Tagged as: J. Keith Saliba