CJC Alumna Profiled in Teen Vogue Women's Equality Day Feature
Candice Wynter, B.S. Public Relations 2015, was profiled in "Women's Equality Day 2020: 5 Young Feminists Reflect on Their Work" published in Teen Vogue on Aug. 26.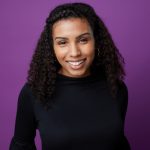 Teen Vogue spoke to five young feminists of color from across the U.S. and asked them to reflect on their journeys toward feminist activism and advocacy. The article shares their stories, feminist influences and references and the impressive work they've been leading during the pandemic.
According to the article, "Wynter identifies as an intersectional feminist advocate — and has taken a nonlinear path. She has worked as a journalist, in public relations, and still harbors screenwriting dreams, but she's taking her current role as a communications strategist in philanthropy seriously. Wynter is leveraging this moment to continue her advocacy for more funding and storytelling power for women of color-led social justice organizations."
"I have been focused on the fact that women of color who lead grassroots nonprofits are really underrepresented in funding," said Wynter. "I'm really focused on voices; how can strategic communications create pathways for women of color to be voices for themselves?"
She adds, "Movements in general should be evolving and learning because they're run by people. I do think that young feminists and young activists, in general, are really good at seeing how things connect and don't exist on their own. Race, gender, class, climate — all of these things intersect."
Posted: August 27, 2020
Category: Alumni News, College News
Tagged as: Candice Wynter, Teen Vogue