FWAA Presents First-Ever Edward Aschoff Rising Star Award
David Ubben of The Athletic is the first recipient of the Edward Aschoff Rising Star Award presented by the Football Writers Association of America (FWAA) in August 2020.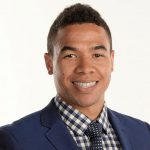 The award was named in honor of Edward Aschcoff, B.S. Telecommunication 2008 and Hall of Fame 2020. Aschoff was a respected college football reporter who passed away on Dec. 24, 2019 — his 34th birthday — from Stage 4 non-Hodgkin's lymphoma. He reported for ESPN.com, SportsCenter, SEC Network and ESPN Radio, in addition to working as a sideline reporter during college football games for both radio and TV.
FWAA created the award to honor sports journalists under the age of 34. In addition, UFCJC has created the Edward Aschoff Memorial Fund in his honor to support students at the College pursuing sports journalism.
Aschoff and Ubben were former colleagues at ESPN, working together when Aschoff covered the SEC and Ubben the Big 12. Since 2018, Ubben has covered the University of Tennessee football team for The Athletic since May 2018 and serves as an adjunct lecturer for the UT School of Journalism and Electronic Media.
Posted: August 26, 2020
Category: Alumni News, College News
Tagged as: Edward Aschoff Rising Star Award