CJC Entry Wins Prestigious D&AD New Blood Award
University of Florida College of Journalism and Communications  alumna Alexa Padron, B.S. Advertising 2020, and Advertising senior Nicole Lopez are the recipients of a 2020 D&AD New Blood Award for their entry "Speak Your Truth" in The LEGO Group Category.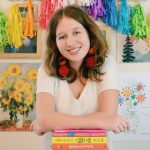 The LEGO Group charged students with creating powerful campaigns that appeal to teenagers and rebuild their relationship with the LEGO brand. The CJC campaign focused on how teenagers have shifted from making traditional high school memories to starting groundbreaking movements. They encouraged teenagers to swap flimsy paper posters for sturdy LEGO signs to communicate the causes they are passionate about. It included online and offline activities to inspire teens to use LEGO bricks in a new way. The CJC winning entry was one of only nine in the category.
New Blood Awards are open to advertising, design, digital and marketing students, recent graduates and young creatives worldwide. The D&AD Award competition celebrates creative and craft excellence in design and advertising and recognizes entries spanning advertising, craft, culture and design disciplines.
Posted: July 28, 2020
Category: Alumni News, College News, Student News
Tagged as: D&AD New Blood Award