Black Professor: My Hope for My Students in Fight for Racial Justice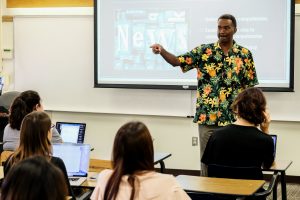 Heading home with groceries recently in Gainesville, Florida, I darted my car onto a street in front of an oncoming SUV. A second later, there was a sheriff's deputy behind me. No reason to believe he even noticed me, but yet my back stiffened in fright. With black men up to 3.5 times more likely than whites to be killed by police, seeing a marked car on the road makes my heart race.
Long before smartphones began recording instances of excessive force, I, like so many other young Black men, had run-ins with police. When I was 17, they accosted me and two of my brothers in a shopping mall parking lot near our native Camden, New Jersey. We were there to buy Christmas gifts for our mother. They thought we might want to steal from parked cars.
Months later, while walking alone one night, an officer stopped his car a few feet in front of me. Where was I going, he asked, not knowing that I was on summer break from college. "Home," I said respectfully. He said youths were causing trouble in the neighborhood, but soon moved on.
A few years later, again in South Jersey, two of my brothers and I were enjoying dinner at a packed Denny's restaurant. Two state troopers suddenly stood sentry at our booth; one held a rifle toward the ceiling. There was a report that three Black men had just robbed a business down the street. Standard police practice meant calling nearby eateries to see if anyone inside could be suspects.
Fortunately, the restaurant's manager told the troopers that — given we were eating dessert — we had been there too long to be the robbers. I still regret not asking the troopers to explain the situation to everyone else in the dining area. That we were not criminals.
As one of too few African American males on the faculty at the University of Florida, or any PWI (predominately White institution) in the US, and as people across racial lines are in the wake of George Floyd's death beginning to consider systemic racism — I try hard to not presume how any student — Black or White — is dealing with our national reckoning about race.
This story was written by Herbert Lowe and originally published on CNN.com. Lowe is a UFCJC lecturer.
Posted: July 14, 2020
Category: Diversity News
Tagged as: Diversity, Herbert Lowe