CJC Students Honored in 2020 National Hearst Journalism Awards Competition
Three University of Florida College of Journalism and Communications student journalists were recognized in the 2020 National Hearst Journalism Awards Competition. Mackenzie Behm, B.S. Journalism 2020, placed second in Multimedia, Telecommunication junior Sofia Mingote placed second in Radio Broadcast News, and Valerie Lyons, B.S. Telecommunication 2020, placed fifth in the Television Broadcast News Competition.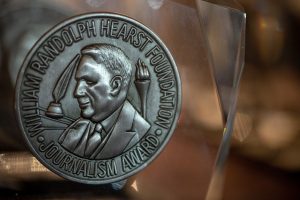 Due to the Covid-19 pandemic, the in-person 60th annual Championship planned for Houston, Texas was replaced by a virtual event. Finalists met their judges and received their assignments over video-conference meetings, then produced and submitted their pieces from home. Their stories focused on how the COVID-19 pandemic has changed their lives.
Behm finished second in the Intercollegiate Multimedia 2 – Innovation Storytelling & Audience Engagement competition, and fourth in the Multimedia 1 competition. Mingote finished third in the Radio and News Features Competition. Based on their finishes, both qualified for the National Competition.
In the Hearst Team Multimedia Digital News/Enterprise Story Competition, "Generation Gunned Down" received fourth place. Team members included Tessa Bentulan, Henry Coburn, Dolores Hinckley, Alexis Howard, Grace King, Sky Lebron, Daniella Mora, Sofia Millar, Claudia Perez Brito, Camille Respress, Lauren Reynolds, Maria Roberts, Matt Serna, Meredith Sheldon, and Raymon Troncoso. The competition featured 79 entries from 49 schools submitted in the fourth and final multimedia competition of the year.
In the Intercollegiate competition, UF CJC received third place in both Broadcast Radio and TV and Multimedia resulting in an overall fourth place finish.
The Hearst Championships are the culmination of the 2019 – 2020 Journalism Awards Program, which were held in 104 member universities of the Association of Schools of Journalism and Mass Communication with accredited undergraduate journalism programs. From May 29 – June 4, 2020, 29 finalists – winners from the 14 monthly competitions – participated in the 60th annual Hearst National Competition.
Posted: June 8, 2020
Category: Alumni News, College News, Student News
Tagged as: Hearst Journalism Awards, Mackenzi, Sofia Migote, Valerie Lyons