Matt Abramson Receives Two International 2020 Telly Awards
Matt Abramson, WUFT Media Services director and a University of Florida College of Journalism and Communications master's student, is the recipient of two awards from the international 2020 Telly Award competition.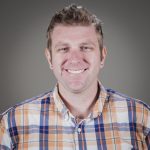 Abramson was honored in the Student Social Video category. He received a silver award for "The Send-Off" and a bronze award for "Rolled Up Sleeves: Tatoo Bias in the Workplace."
The Telly Awards were founded in 1979 to honor excellence in video and television across all screens. The winners represent work from some of the most respected advertising agencies, television stations, production companies and publishers from around the world.
Posted: June 4, 2020
Category: Alumni News, College News
Tagged as: Matt Abramson, Telly Awards