Yulia Strekalova Co-Authors Blog on Guiding Collaborative Conversations
Yulia Strekalova, University of Florida College of Journalism and Communications research assistant professor and director of Grants Development, is the co-author of the blog "Guiding Collaborative Conversations and Connections with Probing Questions" published in Integration and Implementation Insights on June 2.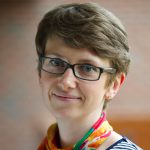 In the blog post, Strekalova and Wayne McCormack focus on how to ignite discovery conversation and foster open psychologically safe dialog among researchers from different disciplines that have not previously met.
They present five conversation-starter questions developed during a workshop with pre-doctoral trainees. The questions include: what personal expertise and interests are represented, what shared resources are available, what opportunities are available for collaboration, defining "big easy" collaborative opportunities that can be evaluated based on their impact, and what action can take place in a short amount of time.
Posted: June 3, 2020
Category: Alumni News, College News, Strekalova Lab
Tagged as: Yulia Strekalova