CJC Alum and Founder of "Too Young to Wed" Receives National Shuttleworth Foundation Grant
New York-based freelance photographer Stephanie Sinclair, B.S. Journalism 1998 and 2008 University of Florida College of Journalism and Communications Hall of Fame, is the recipient of a social change grant from the Shuttleworth Foundation.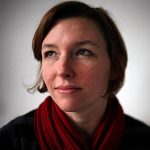 The Shuttleworth Foundation is a small social investor that provides funding to dynamic leaders who are at the forefront of social change. They identify amazing people, give them a fellowship grant, and multiply the money they put into their own projects by a factor of ten or more.
Sinclair will donate the $5,000 grant to her non-profit organization, Too Young to Wed, to assist with their COVID-19 relief efforts targeting vulnerable communities in Yemen, Kenya, Nigeria and Nepal. The mission of her organization is to empower girls and end child marriage globally.
In 2017, Sinclair received the Anja Niedringhaus Courage in Photojournalism Award. She was honored for capturing the quiet dignity of women and girls who have endured cruel practices such as child marriage, genital mutilation and acid attacks.
Posted: May 22, 2020
Category: Alumni News, College News
Tagged as: CJC Hall of Fame, Shuttleworth Foundation, Stephanie Sinclair