CJC Public Relations Junior Elected National PRSSA President for 2020-2021
Carolyn Lok, a University of Florida College of Journalism and Communications Public Relations junior, has been elected president of the Public Relations Student Society of America (PRSSA) for the 2020-2021 term. The previous two PRSSA national presidents were also CJC students.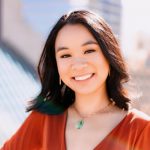 PRSSA, the foremost organization for students interested in the public relations and communications fields, held a virtual election for its 2020–2021 National Committee on April 23. The annual Leadership Assembly, initially set to take place April 16-19 in Scottsdale, Arizona, became a virtual event as a result of the COVID-19 pandemic.
More than 110 universities from around the world were represented during the virtual meeting. The election process took place remotely and all candidates running for office were required to send their nomination form and a video of their speech to the PRSSA National office. Candidate videos and forms were then shared with delegates for review.
"I'm extremely honored to have been elected as national president," said Lok, who previously served as the organization's vice president of digital communications. "While these are unprecedented times, I have the utmost faith that the incoming committee will bring the change and leadership needed to unite our members. I look forward to giving back to a Society that is invested in shaping the future of tomorrow's leaders."
Lok's presentation to her fellow PRSSA members is available here.
Posted: April 29, 2020
Category: College News, Student News
Tagged as: Carolyn Lok, PRSSA