CJC Alum Wins Second Place in Cannes Young Lions Print Competition
Isabella C. Guardia, B.S. Advertising 2018, has received second place in the 2020 Cannes Lions International Festival of Creativity Young Lions Print Competition. Guardia, a junior art director at Leo Burnett in Chicago, shares the award with Mariana Guarín Barkach, a copywriter at the same agency.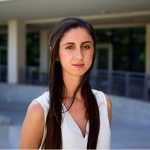 The client for the 2020 competition was CureSearch, an organization dedicated to ending childhood cancer through targeted and innovative research. Participants were challenged to create a captivating and unique print ad in 24 hours. A panel of industry experts selected the winners.
The Festival brings together the world's biggest brands and most creative people to foster an environment for learning, networking and celebrating the power and effectiveness of creativity. A record number of more than 900 teams registered from all over the U.S., with more than 495 entries across all six competitions.
Posted: April 27, 2020
Category: Alumni News, College News
Tagged as: 2020 Cannes Lions International Festival of Creativity Young Lions Print Competition, Isabella Guardia