Sharing Experiences: Heather Waters
From December 2007 until June 2009, the U.S. was in the middle of what came to be known as The Great Recession, the most severe economic recession since the Great Depression of the 1930s. We asked CJC alumni who graduated in the midst of the Great Recession to share their experience during that time and how they managed to thrive as the economy got back on its feet.
Heather Waters, B.S. Journalism 2008
Associate Director of Marketing
Simon and Schuster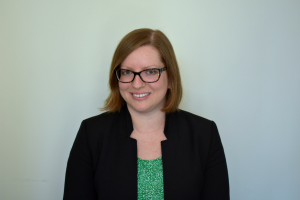 I set my cap at becoming a book editor at a publishing house in middle school and pursued that dream right on through my four years at UF, where I majored in Journalism and English Literature as part of the class of '08. My classes, my work as a sports copy editor at The Alligator, and my internship with the University Press of Florida were all aimed at one thing: Working my way up to a role at one of the six (now five) major publishers in New York. Of course, graduating into a recession has a way of changing your plans for you.
I didn't know then how incredibly difficult it is to break into the publishing industry from a thousand miles away, let alone with zero connections; I did quickly realize that jobs in my chosen field were relatively scarce and highly competitive. Applying to big-city internships hadn't gone anywhere, so when I saw an opening for an editorial assistant position with a family-owned publishing company in Sarasota, I applied and got an interview. Then, a few weeks before graduation, in the summer of 2008, I accepted my first full-time job.
Looking back, I can clearly see what serendipitous timing that was, because so many of my talented j-school classmates had to hop from internship to internship during the worst of the recession. Would I ever have gotten a publishing job if I hadn't taken that one? Hard to say. At the time, though, it felt like giving up on the NYC track. Little did I know how vital my two and a half years at Pineapple Press would turn out to be, teaching me as much about what I didn't want to do as what I did. For instance, I learned that, uh, being an editor wasn't actually for me.
Still, my professional experience in publishing and my personal interest in social media came in handy when a newly created digital marketing role popped up at Macmillan Publishers in 2011, a job that brought me to NYC after all. At that point, things fell into place in a way they might not have if I'd gone straight to NYC out of school.
Don't get me wrong: There've been many ups and downs since then, including an unexpected layoff two years ago in our unquestionably tough media environment, but I feel very lucky in my current position as an Associate Marketing Director at Simon & Schuster. Sharing my love of books with fellow readers, and getting paid to do it, is not a bad gig.
I guess what I'm saying is that in these unprecedented times, you may have to deviate from your long-held career plans, and that sucks. That said, if you can adapt to your circumstances while continuing to learn new skills and accumulate work experience, you'll be perfectly placed to grab onto the right opportunity when it does come along. And who knows? You may just find yourself going down a path you never knew you were always supposed to take.
Posted: April 26, 2020
Category: Profiles
Tagged as: Heather Waters, Shared Experiences