Two CJC Fresh Take Florida Reporters Receive SPJ College Coronavirus Coverage Awards
University of Florida College of Journalism and Communications Fresh Take Florida student reporters, Journalism senior Tobie Nell Perkins and Journalism junior Karina Elwood, are the recipients of the weekly Society of Professional Journalists (SPJ) College Coronavirus Coverage Award. This is the third consecutive week that UF student journalists have received the national honor.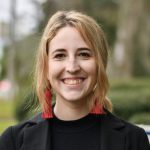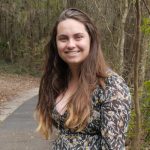 Perkins was honored for "Sanford Orlando Kennel Club Forced to Close Their Doors Early" and Elwood received accolades for "Keeping the Family Restaurant Open in the Pandemic: It's All We Have Ever Known." The stories were published in the Orlando Sentinel, the Miami Herald and other news outlets.
SPJ, the Associated Collegiate Press, the Society for News Design, and the National Press Photographers Association have joined forces to recognize college journalists who are admirably covering a pandemic for little or no money while struggling with online classes. Stories are judged in three categories: general content, photography, and design.
Perkins' straightforward news story of a dog-racing track was, according to one judge, "super-well-written, with a certain maturity to it." Another said, "It took what was a routine story and made you feel like you were there at the last race."
The judges said that Elwood's first-person account of her family's struggling restaurant "incorporated really good writing with her experience."
"It was the first time I'd ever put myself into the story," Elwood said.
Posted: April 16, 2020
Category: College News, Student News
Tagged as: Fresh Take Florida, Karina Elwood, SPJ College Coronavirus Coverage Awards, Tobie Nell Perkins