CJC Journalism Student Comments About the Stress of Covering the COVID-19 Pandemic
Christina Morales, a University of Florida College of Journalism and Communications Journalism senior and The Independent Florida Alligator editor-in-chief, was quoted in "Their College Year Upended, Gen Z Journalists Keep Breaking News on Coronavirus (Some from Home)" published in The Washington Post on March 18.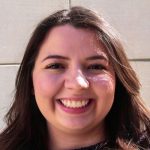 The article focuses on how student reporters at campus news outlets across the country are coping with the challenges of covering the pandemic. Many have no access to newsrooms but are finding ways to collaborate and cover the crisis.
On March 17, the Alligator appeared to break the news that four UF students had tested positive for the virus. According to Morales, there were signs that people were relying on their coverage. Interactions with the paper's Facebook posts leapt by 602 percent as page views also spiked. She said the editors also decided to put a reporter on call every night to watch for updates from the Florida Department of Health.
The Alligator was still putting out a print edition remotely three days a week and student staff were reviewing stories and pages via Zoom and Google hangouts. Morales shared that she was stressed over the uncertainty and safety of the situation, the economy and options after graduation.
"The fear and the panic is something that I think about," she said. "I'm really scared of getting the coronavirus as much as anybody is, and we also have to go online with our classes, we also are being told to leave the area. I think it's a really complicated position for student journalists to be in right now."
Posted: March 19, 2020
Category: College News, Student News
Tagged as: Christina Morales, The Independent Florida Alligator, The Washington Post