CJC Alumna's Documentary Premieres Nationally on PBS
Jacqueline Olive, M.A.M.C. 2007, is featured in "Filmmaker Explores First Steps Toward Justice and Reconciliation" published in the "Independent Lens" Race & Ethnicity blog on pbs.org on Feb. 20.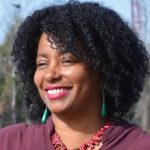 Olive is an independent non-fiction filmmaker who made her feature documentary directing debut with the searing Always in Season, which premiered on "Independent Lens" on PBS on Feb. 24. The film was awarded the Special Jury Prize for Moral Urgency at the 2019 Sundance Film Festival.
According to Olive, the film ultimately took ten years to complete. "One of the keys to doc filmmaking is you need to find a subject you're passionate about," she said. "The thing that helped me stick with it is the issues were so hugely important to me."
Olive co-directed and co-produced the award-winning hour-long documentary, "Black to Our Roots," broadcast on PBS World. She has several projects in development including "They Tried to Bury Us" which examines Charlotte, North Carolina and the city's desire to be progressive hub of the "New South." She is also developing a series about recent hanging cases, looking at each of them through the perspective of an investigative reporter.
According to Olive, "Documentary filmmaking is highly collaborative, and one of the best things about making films is I get to work with really talented, committed and wonderful people."
Olive will visit CJC on March 12 as part of the College's Great Storytellers Series.
Posted: February 25, 2020
Category: Alumni News, College News
Tagged as: Jacqueline Olive, PBS