Five CJC Students Honored in 2020 Hearst Journalism Competition
University of Florida College of Journalism and Communications Telecommunication senior Sofia Mingote received third place in the 2020 Hearst Journalism Awards Radio and News Features Competition. Telecommunication junior Taylor Levesque placed 13th in the contest.
As a top ten finalist, Mingote qualifies for the National Radio Championship in Houston, Texas in June. Her third-place finish includes at $1,500 grant and a matching award for the College.
In the TV 1 Competition, Telecommunication seniors Hasley Pitman and Quan McWil placed 12th and 18th, respectively.
In the Multimedia Two – Innovation Storytelling & Audience Engagement Competition, Journalism senior Mackenzie Behm received second place. In the Multimedia 1 Competition she placed fourth.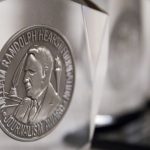 In the Intercollegiate Broadcast Competition, CJC is currently in third place based on accumulated student points from the Radio and TV1 Competitions. The final Intercollegiate winners will be announced in April after the TV 2 News Competition has been finalized.
The 60th annual Hearst Journalism Awards Program, added broadcast news to the competitions in 1988.  The program also includes five writing, two television, two photo, and four multimedia competitions offering up to $700,000 in scholarships, matching grants and stipends. The competition includes 104 universities of the Association of Schools of Journalism and Mass Communication with accredited undergraduate journalism programs who are eligible to participate in the Hearst competitions.
Posted: February 24, 2020
Category: College News, Student News
Tagged as: Hearst Journalism Awards