CJC Alumna Named New UF Director of Communications
Brittany Wise, B.S. Journalism 2007 and M.A.M.C. 2010, is the new University of Florida Strategic Communications and Marketing Director of Communications effective Feb. 21.
In this new role, Wise is responsible for developing strategies and implementing integrated communications and public relations plans to elevate UF's stature and expand its national and international recognition. She will report to UF Assistant Vice President for Communications Steve Orlando, M.A.M.C. 1986.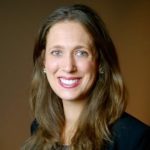 Since 2013, Wise has served as the director of communications for the Florida Board of Governors in Tallahassee. Her responsibilities included developing and executing the board's integrated communication strategy, acting as the media and communication adviser to the State University System (SUS) chancellor and collaborating with communicators at all 12 SUS institutions.
Previously, Wise was a reporter with the Tampa Bay Times covering state government in Tallahassee and with Health News Florida/National Public Radio, leading its South Florida bureau. She also worked as a reporter with Europolitics in Brussels, Belgium, covering European Union legislation.
Posted: January 24, 2020
Category: Alumni News, College News
Tagged as: Brittany Wise