CJC Student Receives Association of Women in Sports Media Scholarship
Mari Faiello, University of Florida College of Journalism and Communications Journalism senior, is the recipient of the Association of Women in Sports Media (AWSM) Jim Brennan Scholarship.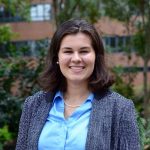 As an AWSM scholar, Faiello will spend her summer interning at the Orlando Sentinel. She has worked at The Independent Florida Alligator for more than two years, most recently as assistant sports editor. She served as an intern for the Gainesville Sun and Tampa Bay Times and was recently honored by the Jim Murray Memorial Foundation with the Judges' Choice Award for the best student sports essay.
Since 1990, AWSM, a nonprofit organization whose female and male members support the advancement and growth of women – both professional and student – in sports media, has placed nearly 200 female college students interested in sports media careers in paid summer internships. Each winner also receives a $1,000 scholarship, complimentary registration and lodging at AWSM's annual conference and a complimentary one-year membership to the organization.
Posted: January 6, 2020
Category: College News, Student News
Tagged as: Association of Women in Sports Media, Mari Faiello