Julie Talenfeld's Success Is The Ultimate Example of Perseverance
By Lenore Devore, B.S. Journalism 1984
Julie Talenfeld, B.S. Journalism 1984 and Hall of Fame 2011, is a self-described news junkie, a successful business owner, a mother and a wife. She was living a dream in 2000, tackling the business world with her first husband at her side. They were hitting their stride when tragedy struck, not once, but twice. Despite the tragedies, Talenfeld found the strength to keep going.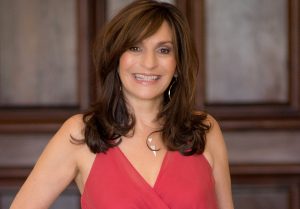 Talenfeld always believed she would follow in the footsteps of her father Ben Silver, who worked with Dan Rather and Walter Cronkite for CBS in New York. With him, she attended the 1968 Democratic Convention in Chicago and the 1972 Republican Convention in Miami Beach at a young age.
"I've always been a news junkie," says Talenfeld. "I watch news 24/7. My friends all know it."
Her love for journalism led her to the University of Florida College of Journalism and Communications, where she learned about politics, discovering how to cover the news and writing about seemingly mundane issues like proposed changes to the Alachua County land-use plan.
"I love the fact that as a student you were able to work for the news talk radio station and be a news reporter for a public TV station," she said. "It was a great experience."
Dr. David Hosley taught radio and broadcast news at that time, and it was for his class she did a project on the Alachua land-use plan. "You had to produce it, record it and then use reel-to-reel and stitch it together. I love news reporting. I was so excited." Until she got her grade. "I got an A for content and writing and an F for production because I couldn't slice tape right."
She learned that things must be perfect. "If it's not, you're not getting an A. It was the same regarding spelling; if one word was misspelled, you got an F. Dr. Hosley taught me how to get things right, be careful, be a good proofreader."
And ABC News foreign correspondent Charles Burke, who brought his real-life experiences covering Latin America into the TV broadcasting classroom, taught her how to be a great reporter, she said. "It was great learning reporting from him."
But Dr. John Wright, her Telecommunication professor and adviser, and later CJC Dean, was her favorite. "I loved learning from him. He was a terrific adviser. We stayed in touch through the years. Everyone loved this guy. He was a magnet for students."
While at CJC, she interned at Channel 4 in Miami, and then, in her final year at UF in 1984, at CNN in Washington, D.C., where she worked as an assignment editor during the day and for the program "Crossfire" in the evening.  "That was so cool. I loved it."
CNN hired her, but they wanted her to be a writer. "I couldn't live in Georgetown or D.C. for $12 an hour," she said. She returned to her childhood home in South Florida where attended broadcasting conventions and met people. But she couldn't find what she was looking for until she started working for a news talk radio station in Miami, covering everything from Cuban refugees to murders in the middle of the night — all from her news car.
She went on to produce a business radio show for a stock brokerage firm and became the head of their public relations division until the stock market crash in 1987. While at a Consumer Electronics Show in Las Vegas, she found out the brokerage firm was filing for bankruptcy. But they made her a deal: She could take the firm's public relations division if she changed the name.

At 25 years old, "I took a situation that was adverse and turned it around," she said about starting BoardroomPR, based in Ft. Lauderdale, Florida, which now has offices in six locations. "It was all me at first; it was terrific. We did $3 million in revenue last year and we have 18 employees, including myself." Those employees include eight Gators who she loves working with, including classmate Todd Templin, B.S. Public Relations 1984, who serves as her executive vice president and recently was named an equity partner.
In 2013, she was named one of the "Top 25 Most Influential Businesswomen in South Florida" by the South Florida Business Journal.
Talenfeld was married to Terry Zobel, an executive for a national asset based lending firm and the chief financial officer for BoardroomPR. They had two young children, Jonathan and Jacqueline.
At age 38, Terry had a stroke. "It was devastating for us and our two kids. He was my partner. He was by my side." As he started to recover, so did their life together. "We were on top of the world with a very successful company being built up bigger and bigger."
But more tragedy would follow. As Zobel returned from a scuba diving excursion on their new boat — Terry's Jules — he was thrown off into murky waters, his weight belt still on. Rescue efforts were futile.
"I went through terrible grief. For our children, I had to be really strong. Boardroom became my refuge. I would work all day, then go home and do sports and homework with the kids."
As she put the pieces of her life back together again, she met Howard Talenfeld, one of the most prominent children's rights lawyers in Florida. They married within a year. Now, they are a team who hold fundraisers for at-risk populations including foster kids special needs children and for political candidates.
"What's good is we get to make a difference every day because we are both successful in our businesses," she said. "We are very fortunate to be able to do these things we do."
Focusing on charitable causes has given her meaning, such as helping with the new Holocaust Museum in Dania Beach and the Jewish Federation of Broward, among others. At the museum, she delights in seeing the chairman of the board, Father Patrick O'Neil of the Archdiocese of Miami, uniting with a second-generation Holocaust survivor to fight hate.
"There is so much hate out there," she said. "It's unbelievable to me. I feel fortunate to give back."
Posted: November 21, 2019
Category: Alumni News, Alumni Profiles, Profiles
Tagged as: Boardroom Communications, Hall of Fame, Julie Talenfeld