Carma Bylund is Featured in Blog Post on LLS Cancer Communication and Caregiver Study
Carma Bylund, University of Florida College of Journalism and Communications (UFCJC) Public Relations associate professor, was featured in "LLS-Funded Study Aims to Support Caregivers," a Nov. 2019 blog post on the Leukemia & Lymphoma Society (LLS) website.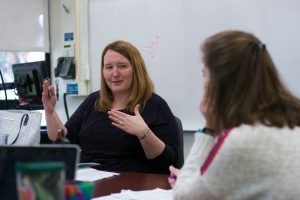 Bylund and Carla Fisher, UFCJC Advertising associate professor, received a three-year, $323,000 grant from LLS for "Improving Family and Healthcare Communication for Caregivers of Parents with Blood Cancer." Since July 2019, Bylund and her team have been conducting a nationwide survey of caregivers to develop an online healthy communication practice intervention to help adult child caregivers and their parents with blood cancers.
The team surveyed individuals who cared for either a child or parent with blood cancer. According to Bylund, they found that respondents' average age was about   43. They felt that caregiving was rewarding and empowering, but they also expressed challenges affecting their career, work and finances.
"Caregivers of children emphasized how their child's cancer affected their personal well-being and some of the difficulties of interacting with their sick child," said Bylund. "It seems harder for them to discuss and accept the cancer diagnosis and prognosis. Caregivers of parents focused on 'role reversal' and the ability to give back to their parents who cared for them. [They] expressed a greater impact on the structure of their lives and reported conflict with siblings in negotiating caregiver roles."
Bylund added that the team hopes to improve information seeking through enhanced online literacy and focus on teaching caregivers how to search for information online and speak to the patient's doctor about what they found.
Bylund is the principal investigator of the study and Fisher is co-investigator with Jason Arnold, director of the E-Learning, Technology and Communication Service in the UF College of Education.
Posted: November 19, 2019
Category: College News, STEM Center News
Tagged as: Carla Fisher, Carma Bylund, STEM Translational Communication Center