Yulia Strekalova Co-Authors Two Chapters in New Mental Health Communication Book
Yulia Strekalova, University of Florida College of Journalism and Communications research assistant professor and director of Grants Development, is the co-author on two chapters in the new book Communicating Mental Health: History, Contexts, and Perspectives.
 The book, to be published on Dec. 15, explores mental health through the lens of the communication discipline.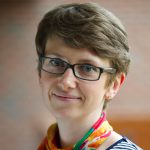 Strekalova and former CJC Master's student Dorothy Hagmajer co-authored Chapter 10, "When Healthcare Professional Need Help: Nursing Burnout and Supportive Communication." In addition, she co-authored "Combating Mental Health Stigma in Underserved Black Communities: A Three-On-Three Basketball Tournament Intervention" with CJC Science/Health Communication doctoral student Brett Ball.
Posted: November 18, 2019
Category: College News, Strekalova Lab News
Tagged as: Brett Ball, Yulia Strekalova