Diane McFarlin Featured as Keynote Speaker at Celebration for Sarasota Charitable Fund
Diane McFarlin, dean of the University of Florida College of Journalism and Communications, was the keynote speaker at a celebration in Sarasota, Florida, on Nov. 6 honoring the 40th anniversary of the Community Foundation of Sarasota County and the 20th anniversary of Season of Sharing, a charitable fund she founded when publisher of the Sarasota Herald-Tribune.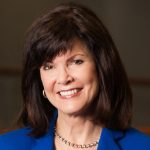 According to McFarlin, she founded Season of Sharing to help provide emergency funding for people on the brink of homelessness. With the growth of income inequality, those resources may be more urgent today than two decades ago.
"I think it's wonderful when a community's ambition is directed toward insuring a quality of life toward everyone in that community. And Sarasota marries its capacity with that goal in a way that's truly extraordinary," said McFarlin. "Season of Sharing has grown to the extent it has because of the caliber of this community and the philanthropic nature of this community. Not all communities would have that capacity, and that truly makes it a special place, and a place where everyone can thrive, even those who fall on hard times."
Posted: November 7, 2019
Category: Alumni News, College News
Tagged as: Diane McFarlin