Mira Lowe is the New President of the Journalism and Women Symposium
Mira Lowe, University of Florida College of Journalism and Communications (UFCJC) assistant dean for student experiences and Innovation News Center director, is the new president of the Journalism and Women Symposium (JAWS) for 2019-2020.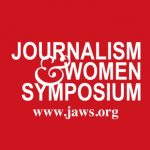 JAWS is an organization for working journalists, journalism educators and researchers from across the country. Members meet in person and online to share resources, support, training and information about the issues that affect women in the industry.
Lowe served as co-chair of the 2019 Conference and Mentoring Project (CAMP) held Sept. 20-22 in Williamsburg, Virginia. In addition to JAWS, she is a member of the National Association of Black Journalists, the Online News Association and Radio Television Digital News Association.
Posted: September 24, 2019
Category: College News
Tagged as: Journalism and Women Symposium, Mira Lowe