CJC Scholarship Winner Juggles Studies and Work as a Professional Journalist
Gabriella Paul, a senior at the University of Florida, in July won first place for the 2019 SPJ Florida College Scholarship.
"I thought I had an interesting story to tell in my application because I like to report more slowly and tell longer narratives," Paul said.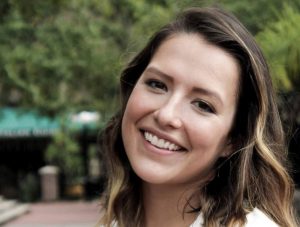 Paul is a contributing writer for The Gainesville Sun newspaper in Florida, and she is also a student journalist at the University of Florida [College of Journalism and Communications].
While she prefers to write long-form articles, it's a Facebook timeline world of quick headlines for many readers.
She is aware of the amount of information that's available for the public every day, but she doesn't tune into only one news source, Paul said.  She watches and reads multiple sources.
"I think that's the only way we can preserve everyone having original thoughts and thinking for themselves, politically and socially," Paul said. "I think the mistrust with media comes from people not seriously exploring other opinions and being knowledgeable enough to not rely on one broadcast every morning."
Paul juggles classes with reporting news.
"It's a hard field to be in as a student because you're expected to be producing the same material as employed journalists while you're still juggling the challenges of being a student," Paul said.
She has not shied away from tackling big stories.
"The last six months, I've been trying to do an in-depth immersive report on a Florida cabinet member," Paul said.
Paul has short- and long-term goals. She would like to get a job as a staff writer for a news magazine, maybe live in a vibrant community and fine-tune her reporting skills.
She's also considering a graduate program in creative nonfiction or literary journalism, she said.
Paul was the black sheep in her family because she grew up in a medical field household but chose to study journalism at the University of Florida, she said.
"I quickly hit the ground running and loved the idea of storytelling," Paul said. "I always have. I wasn't sure if I wanted to tell true stories or write fiction and then found that I love talking to people and writing people-driven stories."
With an attachment to culture and people, she enjoys human stories surrounded by politics, race, and entertainment.
"In any topic, let's say it is entertainment because I really do enjoy writing about culture," Paul said. "If it was entertainment, hard news, politics, or whatever, I would just write about it in a culture-driven way."
This story, written by freelancer Isaiah Singleton, originally appeared in SizingUpTheSouth.com, a nonprofit news magazine covering journalists and journalism who serve in the South and covers students studying journalism or are working within the collegiate news industry. 
Posted: August 21, 2019
Category: Profiles, Student News, Student Profiles
Tagged as: Gabrielle Paul, Sizing Up the South