"Peak Florida" Honored in 2019 SEJ Awards for Reporting on the Environment
"Peak Florida," created by students in the University of Florida College of Journalism and Communications fall 2018 Environmental Journalism course, was honored by the Society of Environmental Journalists' (SEJ) with an SEJ Award for Reporting on the Environment. The multimedia project received third place in the inaugural Ray Reece "Excellence in Environmental Journalism" Student Award competition.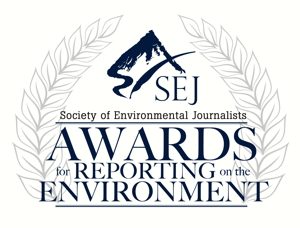 "Peak Florida" focuses on how Florida's population growth, weakened development regulations, and accelerated climate change is affecting the Sunshine State. It tells the story in five parts: Florida's Growth, The Fate of Fish Island, Rural Heritage, Room for Wildlife, and Solutions.
The project also received first place in the In-Depth Reporting category in the 2018 Society of Professional Journalists (SPJ) Region 3 Mark of Excellence Awards and was a finalist in the Best Video student division category in the 2019 SPJ Sunshine State Awards.
The SEJ contest is regarded as the world's largest and most comprehensive environmental journalism competition, honoring the best news coverage of the most important stories on the planet. The awards will be presented at the 29th annual SEJ Conference in Fort Collins, Colorado in October.
Posted: August 5, 2019
Category: College News, Student Awards
Tagged as: Cynthia Barnett, Peak Florida, SEJ Awards for Reporting on the Enviroment, Society of Environmental Journalists