Rob Hiaasen Selected Posthumously for 2019 Richard M. Clurman Award
Rob Hiaasen, B.S. Telecommunication 1981 and Hall of Fame 2018, was honored posthumously with the Richard M. Clurman Award at the annual Livingston Awards luncheon in New York for encouraging and nurturing young journalists. Hiaasen, the former assistant editor and columnist for the Capitol Gazette newspaper in Annapolis, Maryland, was killed during a mass shooting in the newsroom in 2018 – the deadliest attack on journalists in the U.S. on record.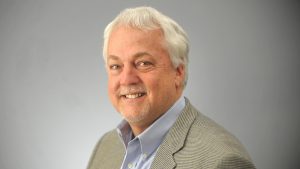 The Livingston Awards, funded by the John S. and James L. Knight Foundation and the University of Michigan, bolster the work of young reporters, create the next generation of journalism leaders and mentors, and advance civic engagement around powerful storytelling.
During the program, a video featured reporters and others talking about Hiaasen's encouragement and mentoring. Hiaasen's wife, Maria, accepted the award on his behalf.
"I can't help but think that things that made Rob a great editor made him a great husband, father, friend," she said.
The Richard M. Clurman Award was named for a correspondent and editor at Time. He was a founding member of the Mollie Parnis Livingston Foundation board and after he died in 1996 the board created the award in his honor to memorialize his legacy.
Posted: June 19, 2019
Category: Alumni News, College News
Tagged as: Richard M. Clurman Award, Rob Hiaasen